1 items tagged "Pets"
Results 1 - 1 of 1
Category: PHP Scripts
Created on Sunday, 04 January 2015 19:58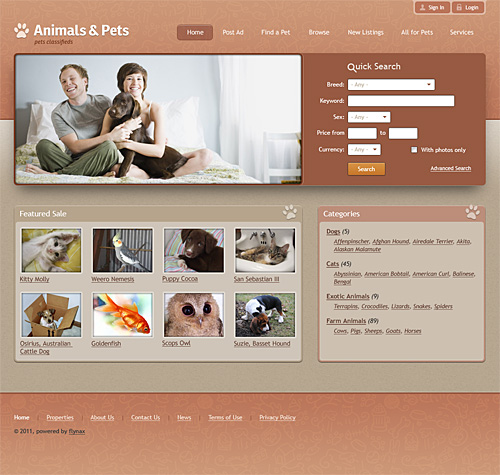 Flynax Pets Classifieds Software is intended for launching an online pet shop, animal shelter or a platform for pets-related service providers. The Software allows you to generate income by charging your users for posting ads and also by generating invoices; you also can add a free plan to make your site available to all users. The Software can be used right after installation as it has all necessary categories and fields to start. If you want to build a custom site you won't have any difficulty because our Pets Script is extremely flexible allowing you to add new sections, categories (breeds), fields, boxes etc from the admin panel.
Tag Cloud
#ref-menu
Friends
JoomlaLock

JoomlaLock.com - Free download premium joomla templates & extensions